Home Health Care Problems Accessing Point of Care if Internet Access is not Available
It could be 10 years before Internet or Mobile access is fully deployed.
Today some rural areas still do not have Internet access or quality mobile access. Full availability to residents could be the result of a ten-year gradual process.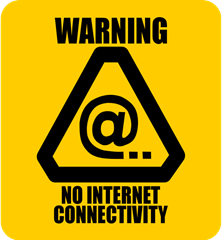 Chairman Ajit Pai of the FCC (Federal Communications Commission) said on April 3, 2017, "I'm pleased that we continue to move forward aggressively to close the digital divide in the United States. The Task Force I announce today will help ensure that taxpayer funds are allocated efficiently for rural broadband deployment, and that all Americans who want Internet access will be able to get it."
Included in this report is the phrase quoted by Pai "to connect unserved and underserved locations over the next decade"
The rest of the story is available: https://apps.fcc.gov/edocs_public/attachmatch/DOC-344201A1.pdf
Can you wait ten years?
What if your Point of Care system requires Internet access via Wi-Fi or mobile data? You need offline capabilities for your field clinicians to operate effectively and efficiently. With offline capabilities, there is no need to write it down on paper and then enter it when you get a signal. With HealthWare, your clinicians have access to the patients chart regardless of connectivity.
Some locations have weak or non-existent cellular service. If you cannot wait up to 10 years for Internet or mobile deployment to take place in the areas you serve, we ask you to consider, in the meantime, a product that works both offline and online: HealthWare's "Point of Care" applications InTouch and InTouch Lite, both with Hybrid Data.
Through close collaboration with our clients, we have determined what features require being usable offline and where it makes sense to be online. Offline capability is critical at the bedside with the patient's chart on your device for easy reference and charting. With HealthWare, you can work offline when needed or use mobile data or Wi-Fi when available. You have distinct choices, and you can choose the system which best fits your organization's needs. More information on our point of care is available at https://www.healthware.com/products/clinical_compliance#intouch or call us at 850-479-9035 or visit our website at https://www.healthware.com.