HealthWare Provides VBP Analysis Service
Value Based Purchasing
The highest performing HHAs will receive an increase in reimbursement payments. The lowest performing agencies will see their payments reduced. Payers other than Medicare have also begun to use quality data in reimbursement calculations.
The subset of measures for VBP has two categories: outcomes and value based aggregates. Outcomes must show improvement while aggregates receive points just for reporting.
Our Quality Measures Dashboards includes what an agency needs to identify shortcomings with VBP measures, evaluate its Star Ratings against the competition, and measure its progress for improvement.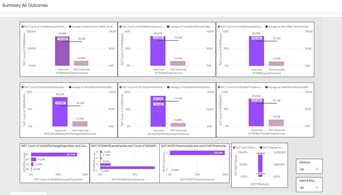 This is one example of the level of detail provided for every Outcome measured by VBP. This example is a Detail Report for Ambulation. Each Outcome has several VBP Analysis measures including Measurement Definitions, High Level Summaries for Owners, Managing Directors and Administrators and Details for Nursing Directors at Time-Points of your choosing. In the Detail sections each agency can drill down to Primary Diagnosis, Tertiary Diagnosis, Patient ID and whether or not Improvement was made and documented. HealthWare also captures Start of Care, Resumption, Follow-Up and Discharge time-points.
With HealthWare each Home Health Agency can see where they compare to the competition nationally, by state and by zip code including comparison by Quality of Patient Care Star Rating. HealthWare offers complete back office and point of care solutions plus VBP Analysis services. HealthWare starts helping with VBP at the point of care with InTouch, our tablet based point of care software solution, that collects VBP data.
For more information, contact us: https://www.healthware.com/contactus/Index