The Financial Impact of the Home Health Care Proposed Rule for 2020
Overall Summary
· Increases the Medicare payments by 1.3% or about $250 million dollars
· Leaves most of PDGM intact
· Implement a new home infusion benefit
· Eliminate pre-payments (RAP)
· Make VBP performance data public
Financial Impact
Most important to many agencies is how their payments will be affected. CMS states that the projected 1.3% increase is based on how revenue is likely to be affected by propose policy changes, including PDGM. Below is a copy of table 36 from the proposed rule that shows how much each different agency type and location is expected to be affected.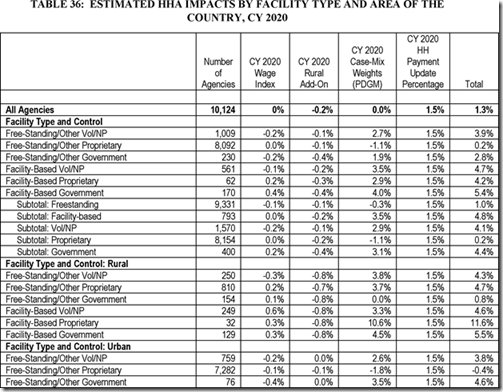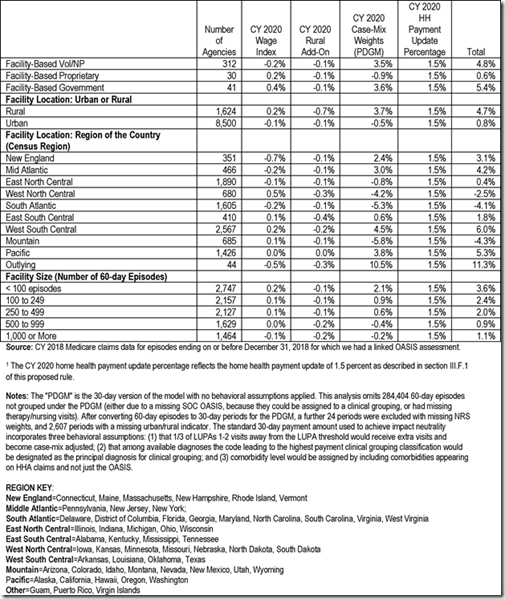 There are also other factors to consider on the financial impacts for Home Health agencies in 2020.
HHVBP Model
Under the HHVBP model there will be adjustments based on your performance data. The highest performing agencies will receive and increase in reimbursement and the lowest performing agencies will see a decrease.
HH QRP
Agencies that meet their reporting requirements are entitled to the full home health market basket percentage increase. Agencies that fail to meet their reporting requirements will be subject to 2% reduction in the market basket increase. CMS also concludes that the change in OASIS item collection as a result of the proposed changes to HH QRP effective on January 1, 2021 will result in a net additional annualized cost of $169.9 million dollars due to the increased cost of information collection.
Rural Add-On

Low Utilization Payment Adjustments
Under the PDGM, LUPA Thresholds are calculated differently because they are now based on the unit of payment 30 days vs the current 60-day episodes. Under PPS the threshold was 4 visits. Under the PDGM LUPA Thresholds are determined for each payment group and vary from 2 to 6 visits. This means now instead of having a threshold of 4 visits for 60 days, you could trigger a LUPA as many as 12 visits over that same 60 days.
Elimination of RAP
The proposed phase out and eventual elimination of the prepayments should not change the payment amount but it will affect an agencies cash flow because the amount you get up front will be less and eventually none under the current proposal. Agencies will eventually have to wait until the end of the 30-day payment period to submit the claim and get paid.
HealthWare is ready for PDGM. If your agency needs help preparing, contact us at sales@healthware.com to learn more on how we can assist.