HealthWare Introduces a VBP Analysis and Consulting Service
HealthWare Helps You Measure & Provide Total Health Through Value-Based Purchasing Analysis. We all agree that providing exceptional patient care is the primary objective for every Home Health Agency. It would appear that Value-Based Purchasing (VBP) makes that more difficult by potentially reducing the income of Home Health Agencies but that does not have to be the case. With the proper tools and partner every Home Health Agency can Win with VBP!
HealthWare is introducing a robust VBP Analysis and Consulting Service that allows a Home Health Agency to see their data closer to Real Time while there is still time to act and improve patient care and the VBP score.
Whether you are a HealthWare user or not, our VBP Analysis and Consulting Service can help you. Of course, there are a number of advantages to being a HealthWare user (like automated submission of your VBP data) but it is not required for our VBP Analysis and Consulting Service.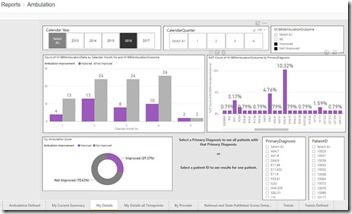 Here is one example of the level of detail provided for every Outcome measured by VBP. This example is a Detail Report for Ambulation. Each Outcome has several VBP Analysis measures including Measurement Definitions, High Level Summaries for Owners, Managing Directors and Administrators and Details for Nursing Directors at Time-Points of your choosing. In the Detail sections each agency can drill down to Primary Diagnosis, Tertiary Diagnosis, Patient ID and whether or not Improvement was made and documented. We also capture Start of Care, Resumption, Follow-Up and Discharge time-points. For HealthWare users we also provide the caregiver.
Each Home Health Agency is able to see where they compare to the competition nationally, by state and by zip code including comparison by Quality of Patient Care Star Rating.
HealthWare is the ONLY home health software and services company to offer complete back office and point of care solutions plus VBP Analysis and Consulting services. HealthWare starts helping you with VBP at the point of care with InTouch, our tablet based point of care software solution, that collects VBP data.
About HealthWare
We have a track-record for moving forward with change. Our commitment to you, as it always has been, is to be on top of the current technology and utilize it to adapt to these changes. We have the tools in place and we extend our hand with our products, services, analytics, consulting and support to help you succeed through this challenge that is Value Based Purchasing. We get it! We have done our homework and we can help.
It has been estimated that as many as 30% (or more) of today's Home Health Agencies will be out of business or acquired (for pennies on the dollar) within the next 5 years. You have options and choices. Don't be a statistic, be a winner. Value-Based Purchasing is a very difficult and highly critical challenge for every agency, but you do not have to do it alone!
You deserve the best, you deserve HealthWare.
Contact us today for more information and a personal demonstration.